This engine allow to read and load the external Paradox, dBase, Clarion, DBISAM, Advantage and TopSpeed tables into any MS Jet/ADO datasource
No any external libraries (no BDE, ODBC etc) - native, direct and fast record loading. Just specify the target MS Jet/ADO connection and records from table (Paradox, dBase, Clarion, DBISAM, Advantage, TopSpeed) will be imported.
All versions for Paradox/Clarion/Advantage tables and xBase/DBISAM formats supported (including password protected files).
A lot of import modes supported:
imAppend: add records to the destination table
imUpdate: update record in destination with matching record from source
imAppendUpdate: if record exists in destination, update it. Otherwise, add it
imDelete: delete records in destination that match records in source
imCopy: delete all records in destination, repopulate from the source
imAppendNewOnly: add records to destination table if no matching record only
Also you may:
specify the custom mappings (define the correspondence between fields in destination and parsed fields in db-file)
create a new table in MS Jet/ADO datasource with same structure as parsed from db-file
different SQL syntax supported (SQL92, MS SQL, Oracle, MySQL, Postgres, DB2, Interbase/Firebird etc
load data into destination table/view or editable query
convert Paradox/dBase records to CSV-file or SQL-dump (INSERT-statements) without loading to recordset (on-fly conversion)
specify the range of loaded records (first and/or last record number)
get the list of tables in directory (with sub folders and/or by wildcard if you need)
get a list of field names and types for any table
filter the record (for example, load customers from USA only)
and more
You may use this version free-of-charge for 30 days only. If after 30 days you would like to continue using it, then you should purchase a license.
Demo projects for Microsoft VC, C#, VB6, VB.NET, ASP and Borland Delphi included in archive with full sources
The trial version have the next demo limitations:
each time after running you will see a nag.screen
only first 100 records loaded in data grid
After license purchase and activation of registered version (using personal serial number) the any limitations will be removed.
* one license allow to work with this software on one computer only (one person). You need as many licenses as the computers wherein our product will be installed and/or used.
** all prices are presented in US dollars but some registration service have a multi-currency payment system with automatical conversion into local currency (for example, in euros for Europe)
License types
Personal license: one license allows to install and use our product on one home computer (one person) only. You can use the product for non-commercial purposes in non-business, non-commercial environment.
Business license: one license allows to install and use our product in a corporate, government or business environment on one computer.
Site license: you can install and use our product on an unlimited number of computers in one domain.
Please note that we can issue a single-user license to a person name only. If you wish your license to be issued to an organization name, you should buy either a multi-user license or several single-user licenses.
Products can be ordered online over the Internet using VISA, MasterCard or American Express credit card, Toll Free Phone, 24 Hour Fax, or Postal Mail at following sites:
What you get when you register
Delivery is done by sending you a registration code (which turns the evaluation copy into the fully registered version) via email.
Demo limitations and nag screens are removed
Upgrades are free during 1 (one) year. You will be notified of updated versions and they will be send by e-mail on personal request.
Technical support by e-mail (please quote your serial number) during 1 (one) year.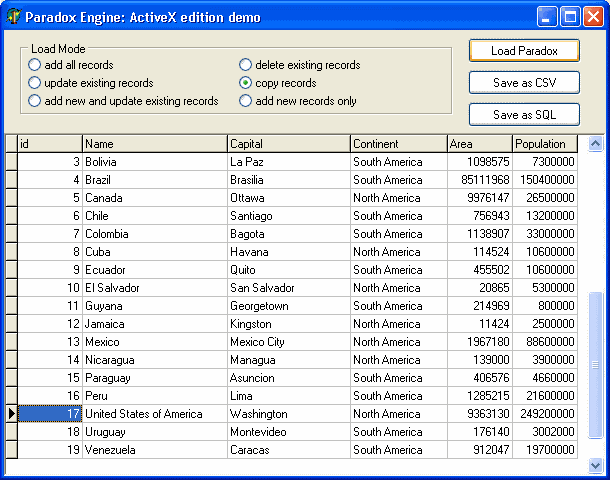 Borland Delphi demo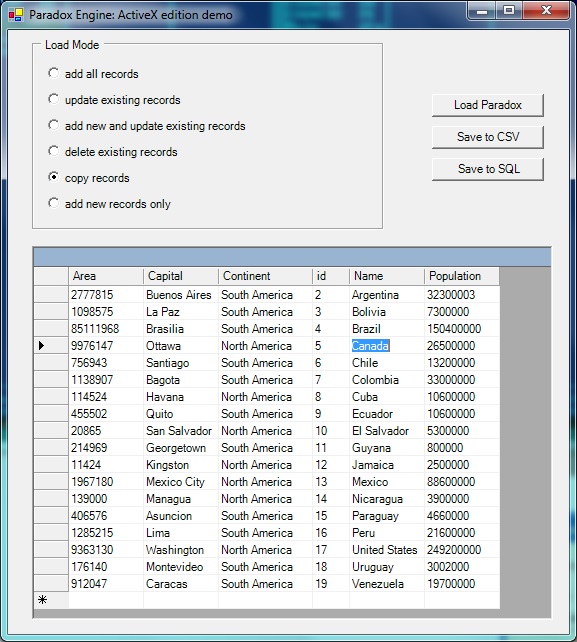 Microsoft C# demo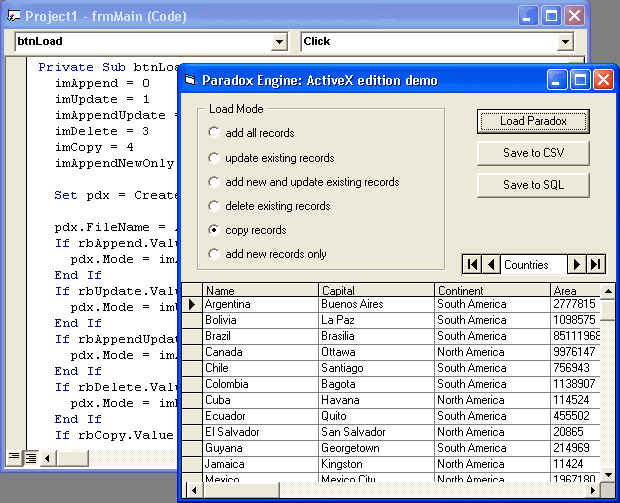 Visual Basic demo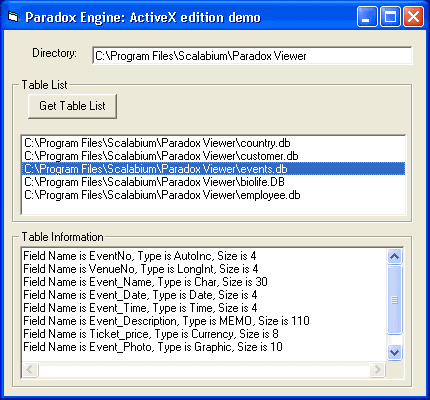 Visual Basic demo: table list and field information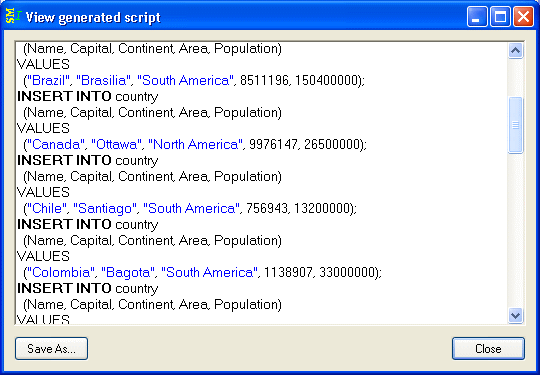 Generated SQL-dump with INSERT-statements
Copyrightę 1998-2023, Scalabium Software. All rights reserved.
webmaster@scalabium.com