SMExport component suite 4.99
convert to all popular data formats!
fast and direct data export into MS Excel, XML, HTML, SPSS, PDF and others from DBGrid/Dataset or any VCL control!

SMExport suite 4.99 is a component set for data export from TDataSet or TDBGrid or any other VCL control (TStringGrid, TListView etc) into the Paradox and DBase tables (using BDE) or into a text file (fixed or comma-delimited), HTML, XML, MS Excel, MS Word, PDF, MS Access, SQL-script, Lotus 1-2-3, Quattro, SYLK, DIF, LDAP DIF and others:
| | | |
| --- | --- | --- |
| | Component name | File format |
| | | |
| | TSMExportToXLS | MS Excel directly without OLE |
| | TSMExportToXLSX | MS Excel 2007/2010 directly without OLE |
| | TSMExportToExcel | using MS Excel as OLE-server |
| | TSMExportToAccess | use the DAO/MS Jet |
| | TSMExportToWord | using MS Word as OLE-server |
| | TSMExportToRTF | RichText format (directly without OLE/DDE/RichText.dll) |
| | TSMExportToText | Text files (fixed or comma-delimited types) |
| | TSMExportToHTML | HTML file |
| | TSMExportToXML | XML file. Subset of TClientDataset format for save/load from XML is supported |
| | TSMExportToPDF | Adobe Acrobat PDF document |
| | TSMExportToWKS | Lotus 1-2-3 directly without OLE |
| | TSMExportToQuattro | QuattroPro directly without OLE |
| | TSMExportToSYLK | SYLK (Symbolic Link) |
| | TSMExportToDIF | DIF (Data Interchange Format) |
| | TSMExportToLDIF | LDAP Data Interchange Format (directory entries) |
| | TSMExportToSPSS | SPSS file for statistical software and analysis |
| | TSMExportToSQL | SQL-script with data dump |
| | TSMExportToBDE | Paradox/DBase/ASCII files (BDE is required) |
| | TSMExportToDBF | DBase tables (without BDE) |
| | TSMExportToADO | ADO data source (without ADO VCL components) |
| | TSMExportToClipboard | MS Windows clipboard with separated fields/columns |
| | TSMExportToDataset | copy a data into other dataset |
Specific formattings (column widths, colors, fonts, selected records etc.) is transferred as much as possible.
SMExport is a native VCL engine with multi-language support.
Also SMExport suite contains a TSMEWizardDlg (

) component. It is a wizard form for run-time user visualization of export parameters setting. With this component your user can control a data export process.
Also SMExport suite contains a TSMExportMonitor (

) component. It is a compound component with visual dialog for export parameters setting. With this component you can control a data export process in one place and give a flexible application to your end-users.

Custom data engines allow to export data from any control (TStringGrid, TListView, TDecisionCube etc). Virtual data engine allow to generate a data in run-time without any linked control. Custom third-party sources supported as well (DevExpress, TMS, DOA, IBObject, DBISAM etc)
Data pumping components allow to export a lot of tables from database in a few mouse clicks.
Download (last updated: May 10, 2013)
You may use the shareware trial version for 30 days with Delphi IDE running only.
If after 30 days you would like to continue using it, then you should purchase a license.
PS: the trial version allows to export the 50 records with Delphi IDE running only.
| | |
| --- | --- |
| | License fee is |
| full suite with sources | 50 EUR |
| standard suite without sources | 35 EUR |
* you can distribute the own applications absolutely free without any additional hidden fees
** one license allow to work with this component suite on one computer only (one developer). You need as many licenses as many developers will use these components
.*** the site license allow to use these components in company with unlimited number of developers. The license fee is 5*(developer's fee)
Products can be ordered online over the Internet using VISA, MasterCard or American Express credit card, Toll Free Phone, 24 Hour Fax, or Postal Mail at following sites:
You can order the bundle: SMExport+SMImport for 75 EUR and save 25 EUR per developer:
What you get when you register
Delivery is done by sending you the fully registered version via email (or by direct link if you have some limitation in mail-server).
Demo limitations and nag screens are removed
Upgrades are free during 1 (one) year. You will be notified of updated minor versions and they will be send by e-mail on personal request.
Technical support by e-mail (please quote your serial number) during 1 (one) year.
1) Unzip it to a created folder
2) Run Delphi or C++Builder IDE
3) Select Install packages... item in Component menu
4) Press Add button and select a package file (SMExportD3.DPL for D3, SMExportXX.BPL for D4/5/6/7/2005/2006/2007/2009/2010/XE/XE2/XE3 and CB3/4/5/6) in installed directory
5) Press Ok button
6) Enjoy it. In the component palette on SMExport and SMExport+ pages you can find installed new components
You can find answers on frequently asked questions <here>
In design-time (being in Delphi designer form):
to fill a component properties and by pressing the mouse right button to execute data export.
Also for TSMEWizardDlg and/or TSMExportMonitor components you can establish all parameters of data export in visual user dialog (view screenshot below).
In your application run-time:
with TSMExportMonitor component for activation of a data export process:
to call a Execute(True) - with setup dialog for visual user parameters prompt
to call Execute(False) - without visual dialog
To start an export for all other components call the Execute method.
Also you can convert the exported text with changed codepage table (Windows or DOS).
For text and clipboard exports you can define a custom symbol-separator between fields/columns and to include a fixed output with the fixed lengths of fields.
You can use the OnGetCellParams event for custom control of every exported value and OnGetLanguageString event for on-fly switch of language in your multilingual application.
In the archive which will be received by registered user in the SOURCES\RESOURCES folder you will find the translated resources for these languages: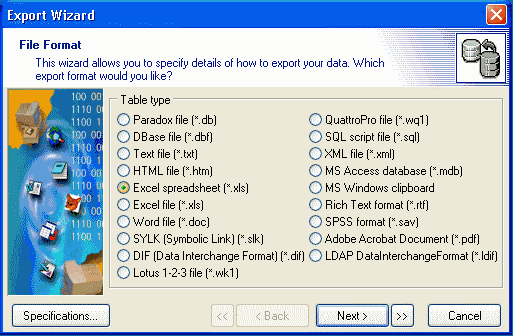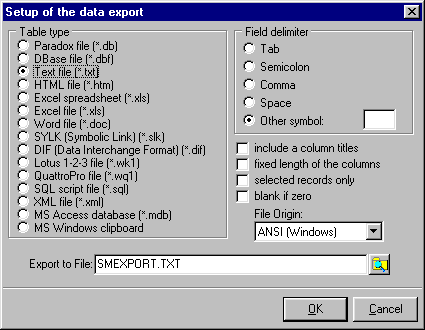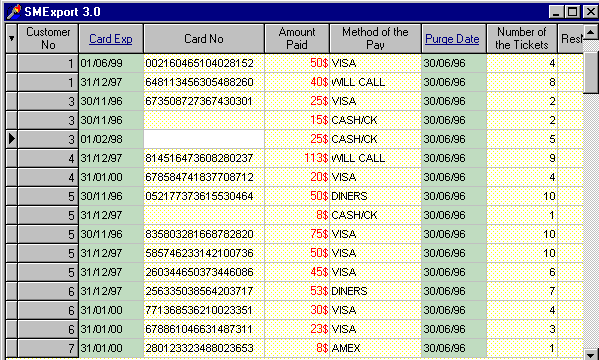 You may try also the another our data conversion tools:
---
Try the SMExport suite 4.99 before you buy it.