DBISAM Password Recovery v2.2: find the lost password for DBISAM tables
This tool allow to find the lost password for DBISAM tables (dat-files).
An application don't use any external libraries (no BDE, no ODBC, no ADO etc) and you may run this tool on any computer without any additional setup/install.
The password revelation is very-very fast because no data loaded, no brute force or dictionary iterations.
DBISAM v1.x/2.x/3.x supported.
You may use this version free-of-charge for 30 days only. If after 30 days you would like to continue using it, then you should purchase a license.
The trial version have the next demo limitations:
each time after running you will see a nag.screen
only first 4 characters of password shown
After license purchase and activation of registered version (using personal build) the any limitations will be removed.
Products can be ordered online over the Internet using VISA, MasterCard or American Express credit card, Toll Free Phone, 24 Hour Fax, or Postal Mail at following sites:
* one license allow to work with this software on one computer only (one person). You need as many licenses as the computers wherein our product will be installed and/or used.
** all prices are presented in US dollars but some registration service have a multi-currency payment system with automatical conversion into local currency (for example, in Euros for Europe)
License types
1 (one) license: one license allows to install and use our product on one computer (one person) only.
Site license: you can install and use our product on an unlimited number of computers in one domain.
Please note that we can issue a single-user license to a person name only. If you wish your license to be issued to an organization name, you should buy either a multi-user license or several single-user licenses.
What you get when you register
Delivery is done by sending you the link for fully registered version via email.
Demo limitations and nag screens are removed
Upgrades are free during 1 (one) year. You will be notified of updated versions and they will be send by e-mail on personal request.
Technical support by e-mail (please quote your serial number) during 1 (one) year.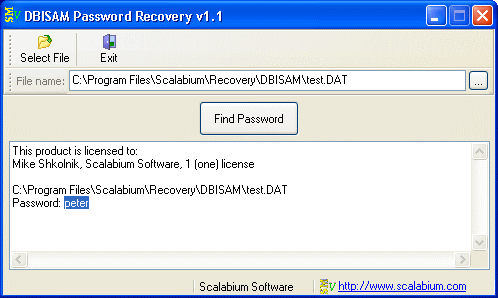 If you need recover the password for DBISAM table, we can do it for you. You'll upload the file to our ftp-server and we will return the entire password string or unprotected file (remove the password from table).
If you are interested in such service, contact to us
You may try also the another our viewers and data conversion tools: